Ten lucky Must Have subscribers will get an even bigger surprise this May!
We are surprising 10 subscribers with over $120 in Jurlique products. If you haven't subscribed yet, then check out our amazing monthly subscription program, hand curated by the POPSUGAR editors, and get the chance to be surprised with over $120 worth of Jurlique products including its bestselling Rose Hand Cream and two NEW products: Rose Moisture Plus Gel-Lotion and Rose Moisture Plus Serum.
You could be one of the lucky subscribers with a special delivery in May! Sign up now for the monthly Must Have box, and you'll have the opportunity to win big. All current subscribers of the May box will automatically be entered to win this indulgent treat!

Refer + Win!
You are already eligible to receive free boxes when friends sign up for Must Have through your referral link (see your account page for details), but through April 23th we are sweetening the deal!
With our POPSUGAR Must Have Refer and Win Giveaway, we will be giving away a $500 Visa gift card to the subscriber who refers the most friends to POPSUGAR Must Have by April 23th.
Just share the referral link on your account page with your friends, and April 16 through April 23 the subscriber who refers the most friends to join Must Have will win a $500 Visa gift card.
Now how simple is that? To get started, go to your account settings and click on Referrals to see your personal referral link displayed and share that link with your friends and family.
This contest ends on April 23 at 11:59 p.m. PDT, so hurry and you could win a $500 Visa gift card!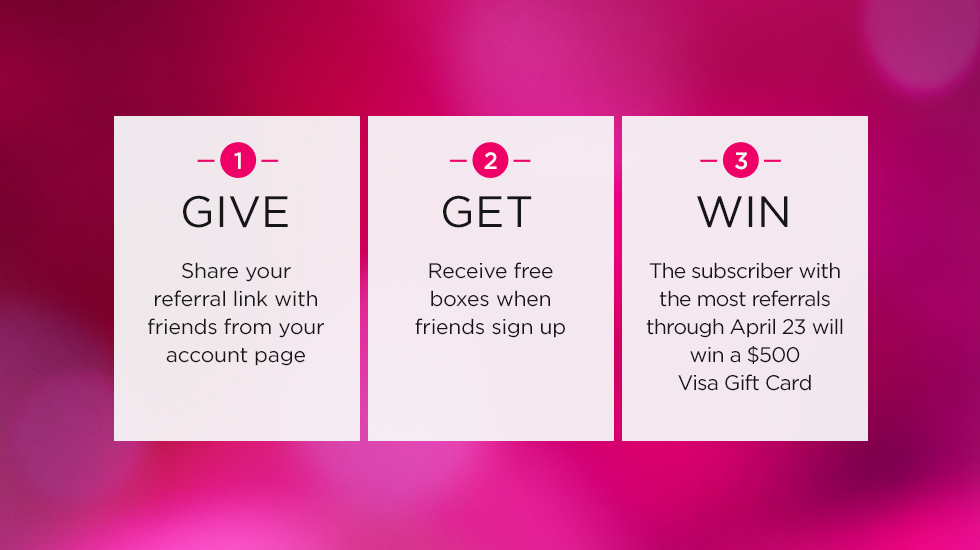 Contest starts 12:01 a.m. PDT 04/16/14 and ends 11:59 p.m. PDT 04/23/14. Open only to legal residents of 50 US states and DC, excluding Colorado, Maryland, Nebraska, North Dakota, and Vermont. All entrants must be the age of majority in their respective state as of the date of entry. Click here
here
for official rules. Void where prohibited by law. Sponsor: POPSUGAR, Inc.
How To Wear a Colored Smoky Eye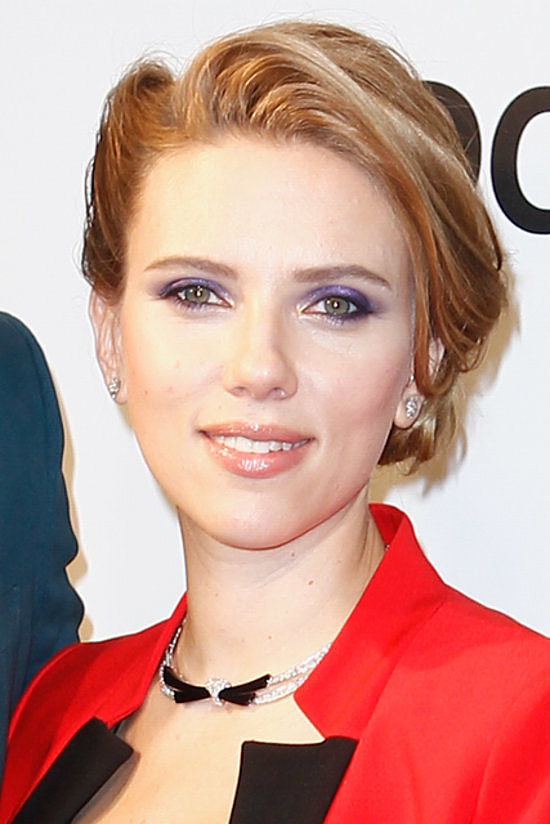 The easiest way to add some life to your boring black smoky eye this season? Do it in jewel tones, lady! Purples, blues, and pinks have been seen swept across women's eyes, and whether it's to a movie premiere like Scarlett Johansson or backstage at a fashion show, this looks always seems to land. "Jewel tones were a huge trend on the runways," says Kayleen McAdams, CK One color global makeup artist (and Rachel McAdam's sister!). "It brightens the eye and brings a little more color to it. It's fun!" Celebrities have cozied up to this trend, too. We've spotted it on Naomie Harris, Lupita Nyong'o, and Kat Graham, which
means it's high time we try out the trend ourselves.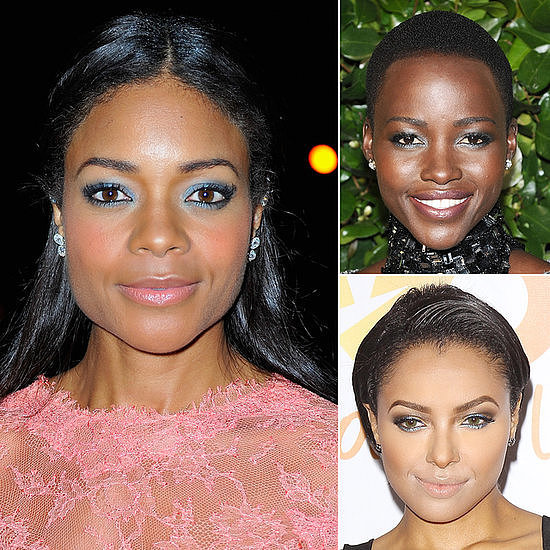 Play around with colors to see which color complements your eyes the most. Purples bring out greens, bronzy shades complement blues, and bright blues help brown eyes stand out. We recommend the Double-Ended Limitless Liner from the Santigolden Smashbox collection. "Start with a jewel-toned eyeliner, and sketch out the shape," McAdams says. "The pencil will help the shadow to stick better, and it will last all day." Next, blend the powder shadow into the liner, adding as much or as little as you feel comfortable. When you're done, clean up any wayward shadow with a sponge or a brush and add a few coats of black mascara. "You want the lashes to look really dark and bold." A quick swipe of neutral lipstick, and you're set with an updated smoky eye, whether it be for one of your dozens of Spring bashes or a night out on a date.
March Must Have — Revealed!
Get ready to shed that Winter coat and welcome Spring with open arms. Before you do that, though, you'll want to prepare with products that are all about new beginnings — new foods to get healthy, new skin care finds, and new accessories for organizing your jewelry. Of course, you'll need a fresh scarf and necklace to look your best too. It's all about putting some spring in your step.
See what was in our March box and join POPSUGAR Must Have to get in on the fun! Don't wait. Order now and you can still snag the April Must Have box!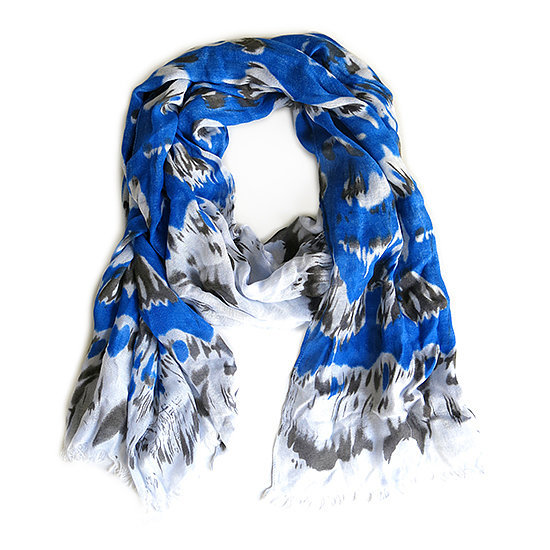 Must Have Fashion
Like a good hat on a bad hair day, a great scarf will effortlessly jazz up any outfit. That's exactly why we love Brokedown's gorgeous blue ikat print, designed exclusively for POPSUGAR Must Have subscribers. Because it's also incredibly soft and lightweight, don't be surprised if you find yourself wearing it 24/7.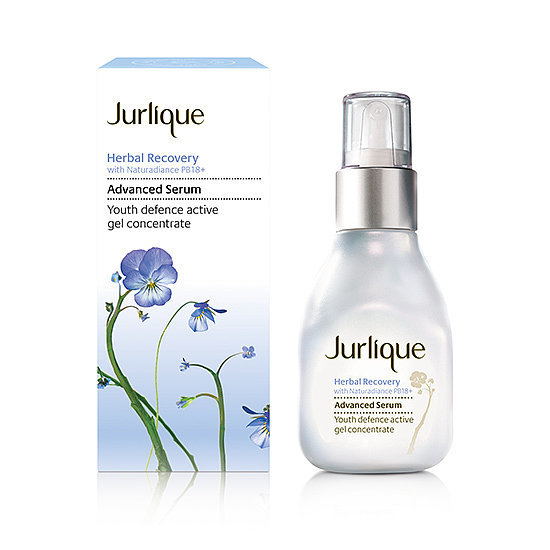 Must Have Beauty
Jurlique Herbal Recovery Advanced Serum
We've found the fountain of youth. Made from organic ingredients, Jurlique's advanced face serum promises to diminish dullness, reduce fine lines, and increase hydration, all while protecting skin from everyday harshness. The result? A radiant face that's photo-worthy at all hours of the day.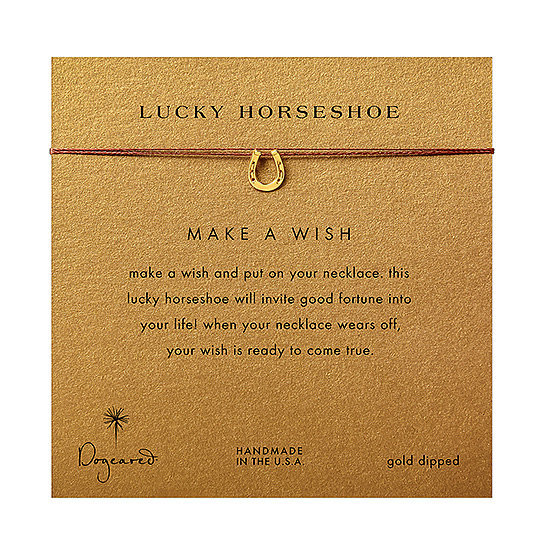 Must Have Fashion
Dogeared Lucky Horseshoe Make a Wish Necklace
Make a wish! And then put on this Dogeared horseshoe necklace. The idea is that the cute gold charm will lock in any good luck that comes your way. Which, in your case, will be plenty.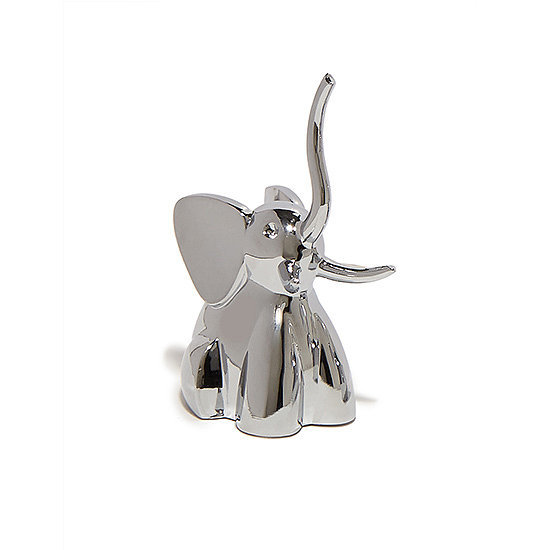 Must Have Home
Don't let this silver elephant fool you — it's not just for looking cute. The charming BaubleBar accessory will make sure you can always keep track of your rings and will add some pizzazz to your side table or vanity. Fun and functional? Consider us sold.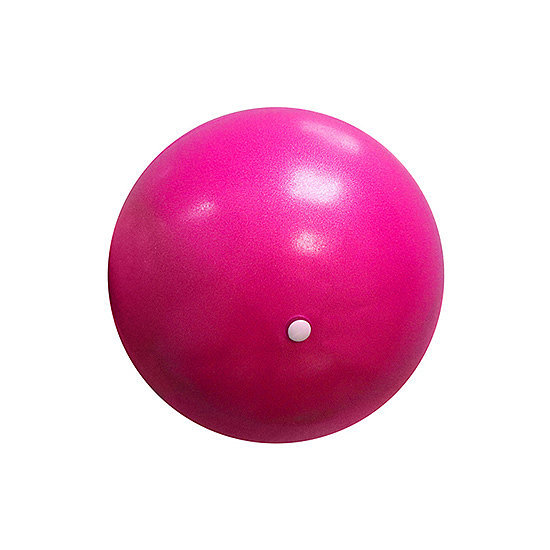 Must Have Fitness
ActiveForever Fusion Exercise Ball
Imagine all the ways you can use this ActiveForever mini fitness ball for different types of exercises, be it for thighs, abs, or arms. But first you'll need some tips and tricks, which you can find right here on the Must Have blog . The best part is that instead of having to use a pump and needle, you can quickly expand it by inserting the accompanying straw and blowing.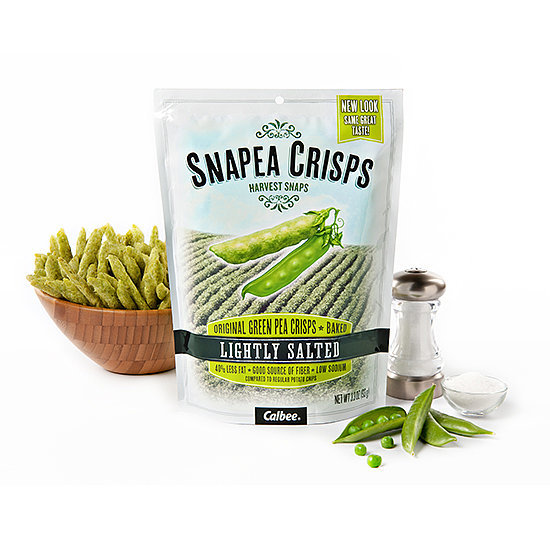 Must Have Food
If you didn't like peas as a kid, it's because they never tasted this good. With one bite of these lightly salted, high-fiber Snapea Crisps from Harvest Snaps, you'll be hooked on the great flavor and crunchy texture. Enjoy them as a midday snack or salad topping; either way, you'll get your dose of natural goodness.
Special Extra
Nature's Bakery All Natural Stone Ground Whole Wheat Strawberry Fig Bars
A great snack you can eat at all hours of the day is hard to find. Until you try one of Nature's Bakery's strawberry fig bars, that is. Enjoy the delicious treats when you're on the go in the morning or after an evening workout. They're all natural and all yum.
Did you love the this Must Have box?

Little Ball, Big Results: Essential Moves For the Mini Exercise Ball
We love versatile fitness tools, especially ones you can fold up and fit in your pocket, like the mini exericse ball. This must-have ball inflates easily with a straw to a diameter of seven to 10 inches depending on the desired firmness. You can easily deflate the ball too. And once flat, it's easy to pack, making it perfect for traveling.
There are so many exercises you can do with these miniballs, but here are seven of our favorite moves.
Low-Abs and Inner-Thigh Squeeze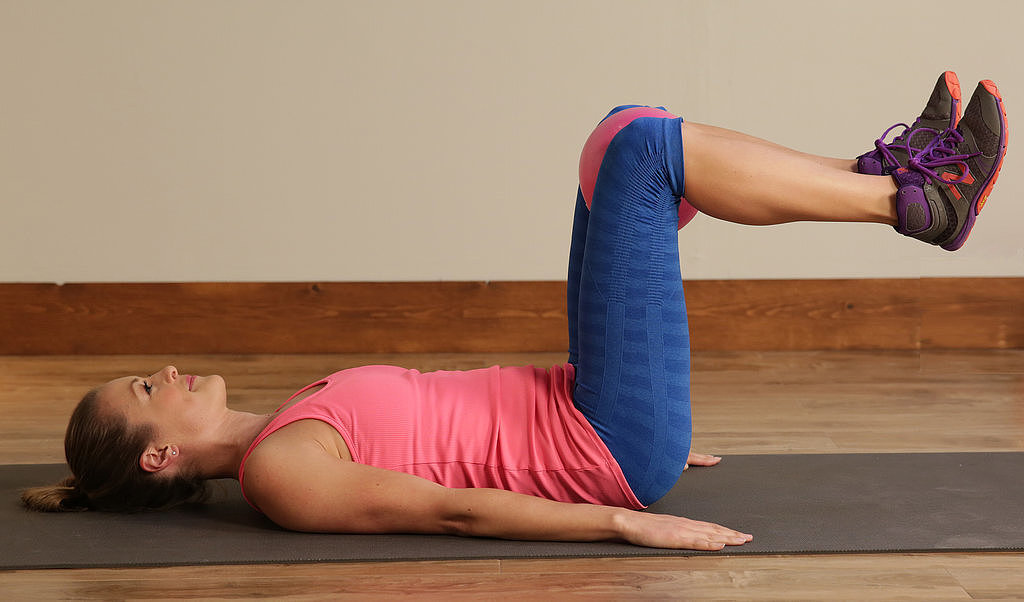 This stability exercise is a great move for firing up the inner thighs and abs.
Lie on your back with your hips and knees at 90-degree angles. Place the ball between your knees.
Exhale, pull your abs to your spine, and squeeze the ball with your thighs. Hold the squeeze for a count of three, and then release.
Work the abs even more by lowering your heels toward the floor as you exhale and returning to the starting position as you inhale.
Only lower the legs as far as you can while keeping your back in contact with the mat.
Do 15 reps for a set, and do two to three sets.
Source: POPSUGAR Studios
Upper-Ab Crunch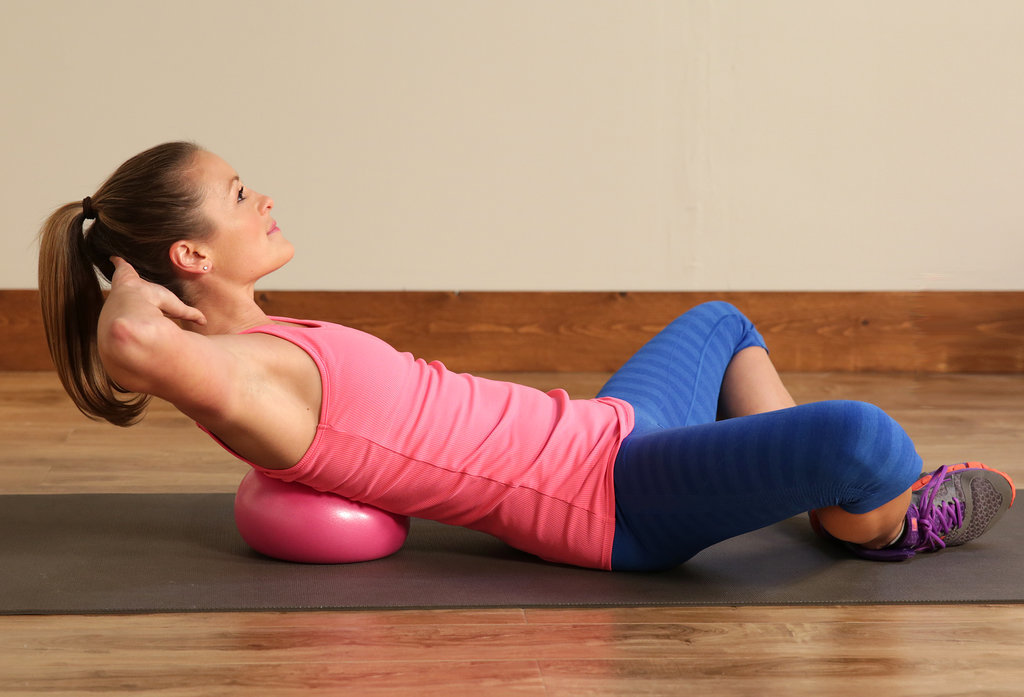 The instability of the ball increases the work of a basic crunch, making it feel more concentrated in the upper abs.
Lie on your back with your feet together and knees opened in a butterfly position.
Place the ball at the bottom of your shoulder blades, and then place your hands behind your head.
Exhale, pulling your abs to your spine, and contract your upper abs as you perform a crunch. Continue this motion with small, concentrated pulses.
Do 25 pulses for a set, and do two to three sets.
Source: POPSUGAR Studios
Ab Curl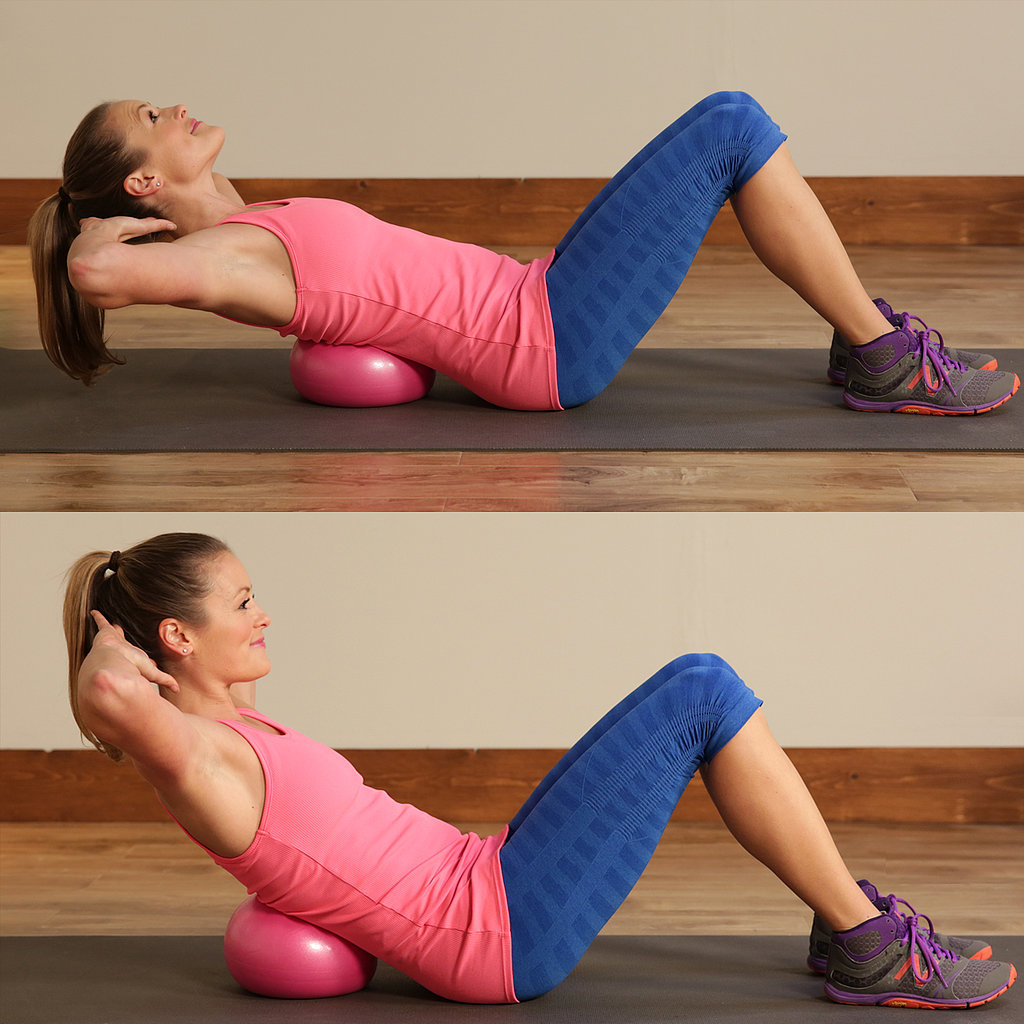 The strategic placement of the ball allows you to focus the toning work on those hard-to-reach middle abs.
Start sitting, and place the ball at your low ribs. Then lean back, so your torso is almost parallel to the floor. Place your hands behind your head, keeping your elbows wide.
Exhale, pulling your abs to your spine while pressing the low ribs into the ball to perform a curl. The movement is small but concentrated.
Inhale, and lower your chest without arching your back. Repeat the crunch with each exhale.
Do 25 reps for a set, and do at least two sets.
Source: POPSUGAR Studios
Chest Stretch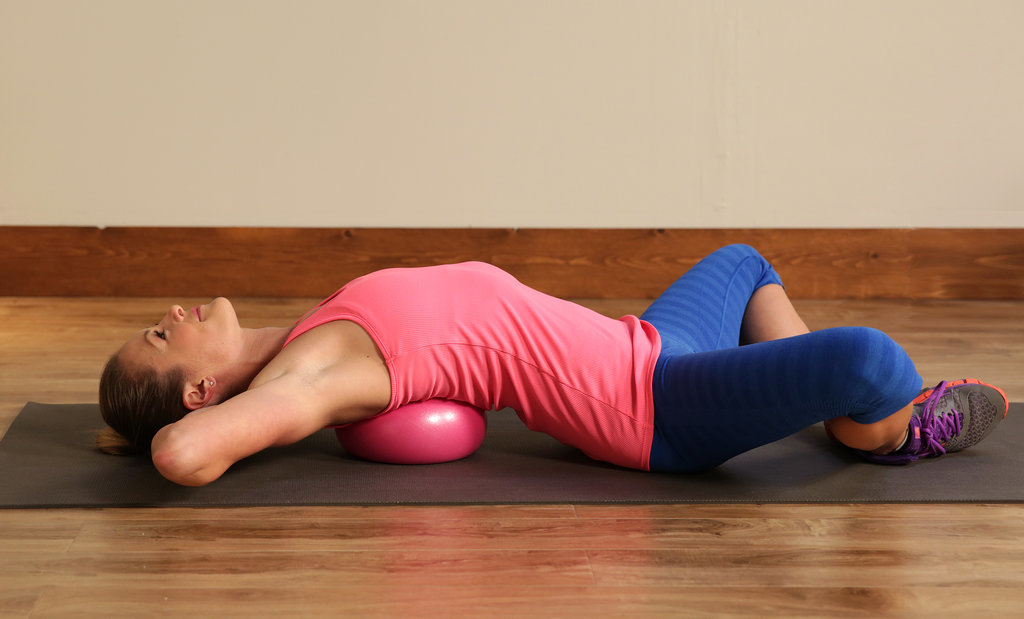 This simple stretch is perfect for opening up the front of your body after doing ab work or after a day hunched over your computer's keyboard.
Lie on your back with your feet together and knees opened in a butterfly position.
Place the ball at the bottom of your shoulder blades, and then place your hands behind your head.
Arch slowly over the ball, and hold this stretch for five to 10 slow, even breaths.
Repeat this relaxing stretch for a total of three reps.
Source: POPSUGAR Studios
Bridge and Squeeze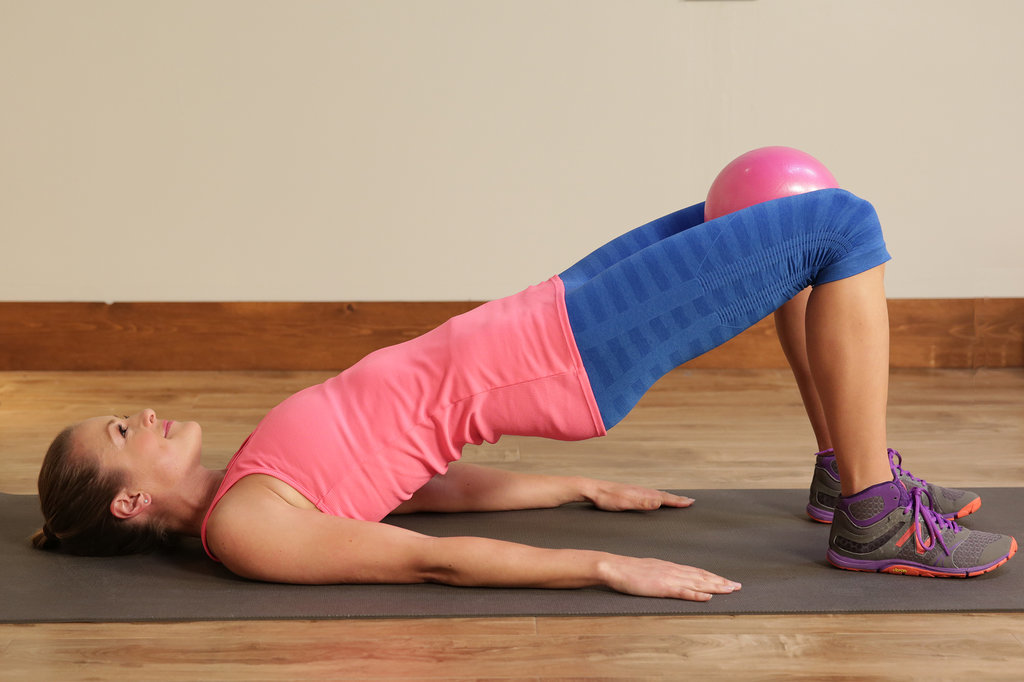 Adding the ball at the knees works the inner thighs and ensures good leg alignment.
Start on your back with your feet on the floor, about 12 to 16 inches from your glutes, and the ball between your knees.
Push your feet into the floor to lift your pelvis into a neutral bridge position. You should be able to see your knees, so don't overarch your spine.
Maintain this position, squeeze that ball 20 times, and return to starting position. This completes a rep.
Five reps makes a set; do two to three sets.
Source: POPSUGAR Studios
Bridge on Ball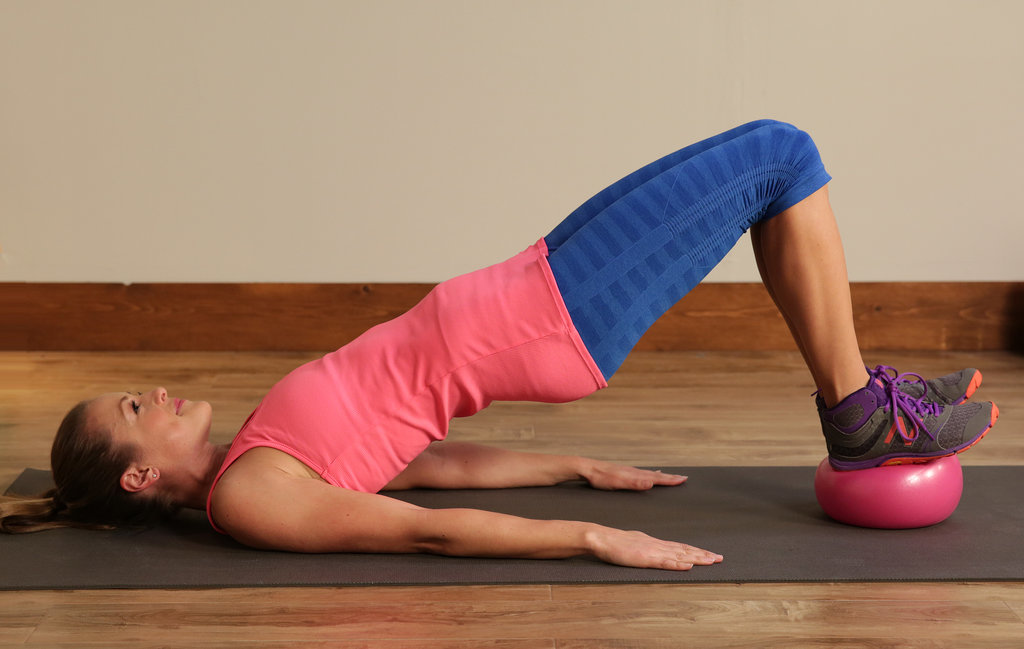 Take it up a notch, and try this bridge variation to really tone your hamstrings and glutes.
Lie on your back with your knees bent and feet about 12 inches from your butt. Put the ball under your feet.
Exhale, press your feet into the ball to lift your pelvis, and come into a bridge, but do not overarch your back.
Inhale, lowering your pelvis to the mat. Use your abs to keep the motion as smooth and controlled as possible.
Do 15 reps to complete a set, and do at least two sets.
Source: POPSUGAR Studios
Inner-Thigh Squeeze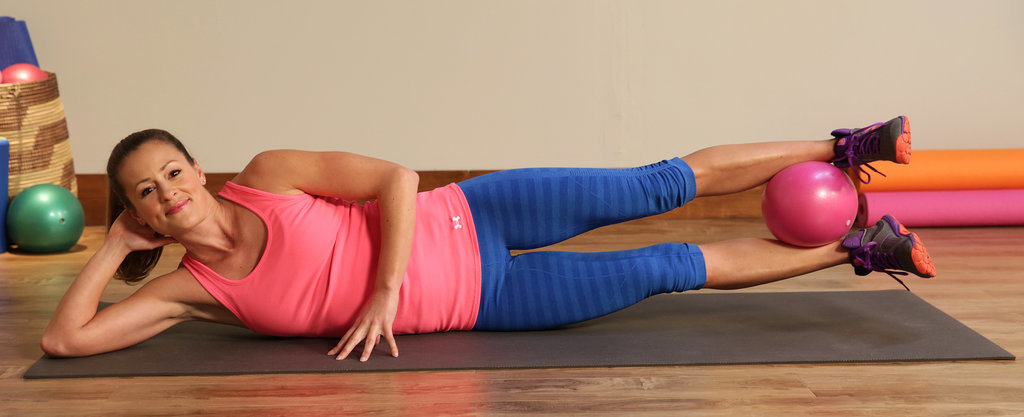 This move tones the inner thighs while working the abs, too.
Lie on your right side with legs in line with your shoulders and the ball at your ankles.
Keep your abs engaged as you lift your legs thee to five inches off the ground.
Maintain this position, and squeeze the ball 20 times.
Continue squeezing the ball, and lift your legs one inch higher 10 times to work your waist.
Repeat on the other side to complete a set. Do three sets.
Source: POPSUGAR Studios
For more workouts and healthy living tips, visit POPSUGAR Fitness!
Be charmed in Charleston! Through March 9, you have the chance to win the ultimate trip for two to Charleston, SC. Known for its culture, rich history, food, and architecture, this Charleston trip provided by POPSUGAR Must Have, PureWow, Tasting Table, and Fodor's Travel is a first-rate getaway.
To begin, you'll receive round-trip airfare for two to Charleston and a three-night stay at the award-winning Zero George hotel. During your stay, enjoy a Zero George cooking school class, a wine tour from Wine Awesomeness's Advanced Sommelier, a $250 American Express gift card, and an exclusive dining guide from Tasting Table.
To top it off, you'll be subscribed to one year of POPSUGAR Must Have to continue the celebration for months to come. Each month, you'll receive a box full of our favorite products — all handpicked by POPSUGAR Editor in Chief Lisa Sugar and her team of editors — including full-size products in fashion, beauty, home, fitness, and more.
Are you ready to pack your bags? Don't miss out on your chance to live it up in Charleston. Enter now!